If you are new to the world of Essential Oils, then let me tell you there's so many ways you can incorporate the amazing effects of oils and I bet you didn't know that Jewelry is one of them!
Lava stones are porous stones that can trap essential oils inside the bead
so you can wear your scent and take it with you wherever you go! 
So why diffuse your Lava rocks with essential oils?
Lava is an incredible stone. It begins as mineral-rich magma buried deep in the earth. Then, after an eruption it transforms into an elemental mixture of fire and earth. For hundreds of years, these rocks have been used by many cultures for their balancing and protective benefits.
Due to their naturally porous properties, lava stones can hold the scent of an oil for several days at a time.
There are two main types of lava stone diffuser bracelets:
Single locket bracelets: These bracelets are typically beaded with a locket that can hold a single lava stone.

Multiple stone bracelets: These bracelets typically have several black lava stones combined with colored beads.
How do you Use the Oils on the Jewelry?
It's as easy as one, two, three:
(1)Add a drop or two to one or multiple lava stones
(2)Turn the stone in your fingers until the oils soak in
(3)Diffuse your oils for days!
(Place your necklace on a flat surface; either on a surface that doesn't stain or on a cloth or paper towel then drop one drop of oil on one or a few of the stones. Allow the oil 15 minutes or so to properly sink in and then wipe any excess oil off the stones before wearing. Experiment with how many drops you want on your necklace or bracelet based on how strong you want the scent to be and reapply as needed.)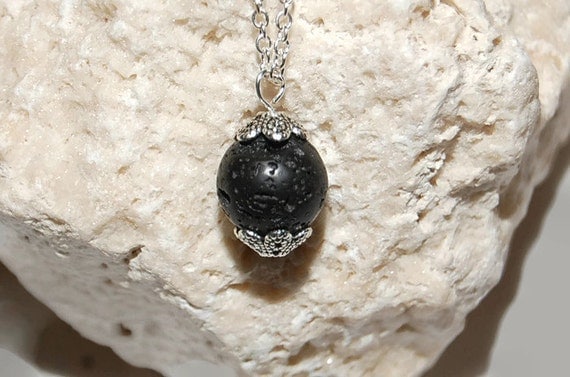 I have the Following Essential Oils in stock: 
Tranquility

: Helps Calm Mind & Body (Spearmint, Cedarwood & Patchouli)
Breathe Easy:

Helps Clear Congestion (Eucalyptus, Peppermint, Basil, Tea Tree, Rosemary)
Thrive:

Helps Purify, Energize, & Boost Immunity ( Clove, Lemon, Cinnamon Leaf,

Eucalyptus

, Rosemary)
Relaxation:

Helps Calm & Soothe (Lavender, Lavandin, Orange, Grapefruit,

Eucalyptus

, Basil)
Harmony:

Helps Uplift Mood (Lemon, Petitgrain, Bergamot, Lime, Orange, Lemongrass, Vanilla, Grapefruit)
Calming Sleep:

Helps Relax & Comfort (Lavender, Lavandin, Wintergreen, Frankincense, Amyris, Lemongrass, Cedarwood, Orange, Patchouli)    
To Purchase One of these Beautiful, Handcrafted Healing Gems for Yourself. Click Here!
Come by one of the Craft Fairs that I will be set up at.
(With the Purchase of a Necklace or Bracelet, You can Purchase a 1ml Sample of an Essential Oil of your Choice for $5.00)